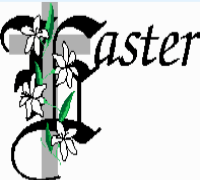 Our Service of Resurrection
begins at 10:30 AM.
Sunday, April 1

Message: "With Many Convincing Proofs!"

Please join us!

Early Sunday morning, while it was still dark, Mary Magdalene came to the tomb and found that the stone had been rolled away...
John 20:1

Look at my hands and my feet. It is I myself! Touch me and see; a ghost does not have flesh and bones, as you see I have."
Luke 24:39

Our Nativity Display has additions for the Easter Holiday!
We regret to announce that
The Annual Community
Easter Sunrise Service
on Talcott Mountain Ridge
will not take place this year.
The site is not available.
We hope to see you next year 2019

We invite you to join us for...